The Power Giants Era

The Power Giant Era was an Era of Bad sales for Dodge. in 1957 Dodge adopted an all new way of identifying, this year's models were known as the "K" series. Body styling for 1957 was all "Forward Look" in design, although the cab and box were both carried over from 1956. all sheet metal from the cowl forward was new, and included a one piece hood that opened 90 degrees, new grille, and hooded headlights. Also new for this year, was the Push-Button controlled Load-Flite transmission, and the new cab-wide swept side bed. The swept side, made from the rear fenders of a '57 Dodge Suburban (station wagon) onto a step side bed -now called the utiline. This created a fin-effect on the back of the truck. Desoto swept sides were different though, they had the fenders of a 56 Plymouth. Also Desoto tailgates were canted inward. The conventional cab 4x4 was all new for this year, this created the 1/2 and 3/4 ton 4x4 that could seat 3-wide and have a V-8 engine.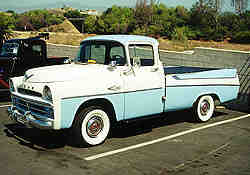 1957 swept side d100
1958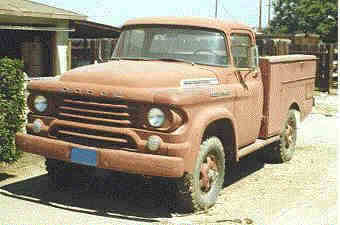 1958 w100
In '58, Dodge re-designed their line-up after only 1 year. Again they were only new from the cowl forward, making a larger engine compartment by enlarging the fenders and hood. The grille for '58 was made of 3 separate horizontal bars identical to the one above the bumper. This was the first year that dual headlights were an option on all models.
1959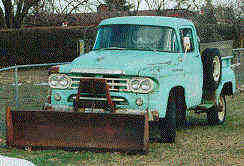 1959 Conventional Cab Power Wagon
This was the last year for the swept side, replaced by the all new swept line bed, the swept side was discontinued in January 1959. A new grille was in order for '59, a 1 piece cross hair grille was installed, while the rest of the fascia stayed the same. New arrows were added to the sides of the hood over the louvers, where a piece of molding had been for '58. The dash was re-designed this year and incorporated a glove box in front of the passenger. New step wells were added to the cab to ease entry and exit of the cab.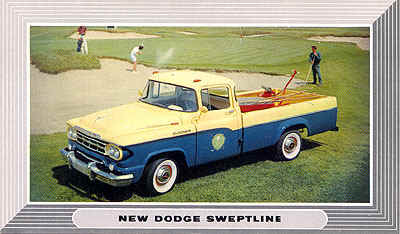 New Dodge Sweptline pickup
1960
This was the last year for the Power-Giants Era. For '60 very little changed, the grille went to a multiple horizontal bar, 1 piece unit. other than that, only the placement of the molding changed.
somewhere between 1959 and 1960, dodge trucks started to be welded in places where they were formerly bolted, such as in the construction of the front fascia. also, it appears that the radiator got thinner, as the top plate between the radiator and the fascia got thicker.
Readers Trucks: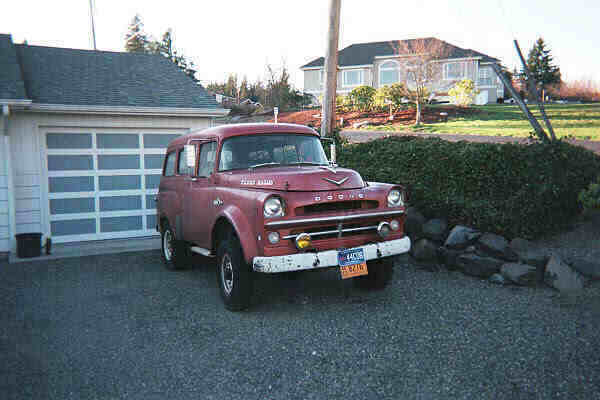 This 57 Town Power Wagon was sent in by owner Jared Weeks.